USA Fender Telecaster
1952 re-issue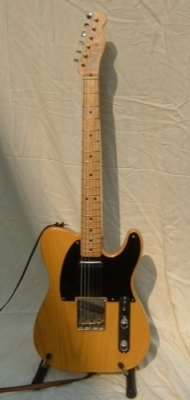 USA 1952 reissue Fender Telecaster.
This is one awesome guitar - it is special. Most Tele reissues are great but this one really has something about it. For 18 years I had been using my 1963 original Fender Strat, which I thought was the bee's knees until I found this Telecaster. The Strat is now retired.
The Telecaster has now come to define the sound of Do$ch, and this one can be heard pumping through the Marshall on all but one track on the Money To Burn album. I used my Watkins Rapier for Bonneville Rebuild Blues.
Shuker Do$chcaster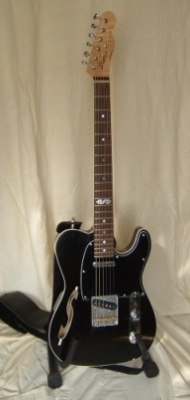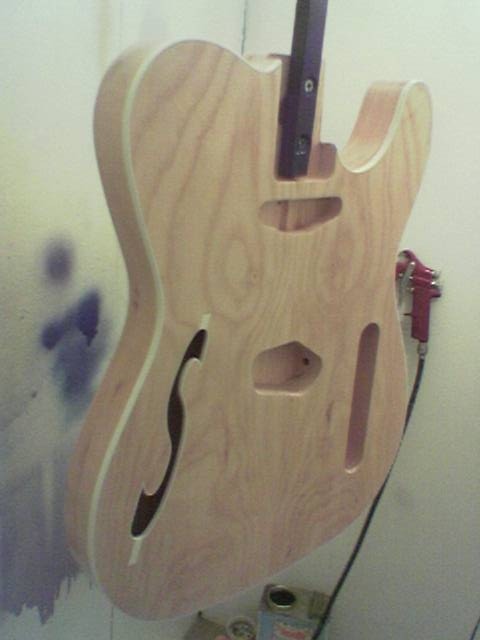 Shuker Do$chcaster
After having sung the praises of my 1952 reissue Tele, here is something which outshines even that fabulous guitar. I commissioned this to be built by John Shuker, who is more well-known for his custom basses and has built instruments for Jean Jacques Burrel of The Stranglers amongst other top musicians. I was confident at the start of the project that I would end up with a fine instrument, but after much time and effort from John it has turned out even better than expected. I have ended up with my dream guitar, and I would recommend anyone to go down this line. Its body is made from a beautiful piece of swamp ash, cut and book-matched for stability, then sliced on the top to enable the body to be hollowed out to take a dollar-shaped f-hole. It was then bound, and though it may sound sinful I had it sprayed black with nitrocellulose paint. Two attempts were made at the neck; the first was chunky with a rosewood fretboard, the second even chunkier and with a maple fretboard. The finished neck is probably the most "baseball-bat-like" that I have ever played. As a finishing touch I decided upon a dollar sign inlay on the 12th fret. Pickup-wise it has the same units as the USA 1952 reissue. I did try Seymour Duncan pickups but found them to be too powerful; as the guitar is very resonant they swamped the tone. Come and hear this guitar at a DO$CH gig and you will agree that all the time and effort was worthwhile, and that its looks are pure rock 'n' roll. A big thank you John Shuker, for me the best guitar maker in the world!
1960s Watkins Rapier 22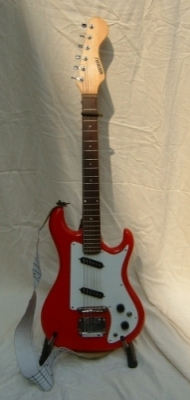 1960s Watkins Rapier 22
This guitar was customised by its previous owner, whose brother owned a Disco manufacturing company called Clowd Electronics, based in Sheffield. They replaced the pickups with two Strat pickups and installed a Gibson bridge, but retained its original Watkins Hi-Lo tremolo system. All this seems to have worked extremely well. The tone is awesome so it's made its way into my main armoury for slide. If you listen to "Bonneville Rebuild Blues" the Watkins Rapier can be heard wailing away. I would not normally condone customising a guitar like this but what a great instrument it has become, so well done to the previous owner. Watkins produced 3 models of the Rapier: the Rapier 22, Rapier 33, and the Rapier 44, which had 2, 3 and 4 pickups respectively. In the mid-60s a Watkins Rapier 22 would have cost around £35.